AARP Vote08 Video Release

In 2008 ARRP launched this website for the purpose of energizing its members to get out and vote in the presidential 2008 elections. Once the election was over this site's domain eventually expired. When I discovered it was available I decided to buy it with the goal of recreating the content from its 2008 archived pages. I added some additional information about ARRP from other sources. You might wonder why I would recreate an old site's content that is not necessarily relevant today, but I believe from an historical perspective this ARRP message should still be "findable" on the web. It continues to resonate even today. And the more ways that are available for people to discover ARRP the better. You can reach their actual website by going to: https://join.aarp.org.
The cheeky video that was part of the 2008 election was hilarious, perhaps even provocative to some folks. I remember the first time I saw it. I was working as part of a custom application development team. Our progressive custom software company had a client in the healthcare market place who required our services. Because of their industry they were subjected to special regulations and a higher-than-usual expectation of security and privacy for their clients. We were brought in to address their security concerns by developing customized software. While we were taking a break, one of the company's executive liaisons popped her head into the IT office and invited us to come take a look at a new video ARRP had just released on the internet. While I was watching it, all I could think of was how my very conservative New England father would react if / when he saw this. My mother has a great sense of humor, but my father is all about what is proper etiquette. We all thought it was hilarious and would certainly make a memorable statement to that demographic.
Hopefully if you come across this website, it will bring a smile IF you recollect this ARRP campaign.
On Tuesday AARP launched an entertaining get-out-the vote campaign with an Internet video, which allows recipients to see their own names featured in campaign video, as well as on t-shirts and other paraphernalia as someone who can "shake up Washington."
AARP believes it has found as way to energize potential voters. Their message basically says by the way you vote YOU can break the gridlock in Washington.
Let's hope this will be a successful get-out-the vote campaign.
UPDATE: After the 2008 elections there was optimism that something would change in the halls of Congress. Unfortunately, seven years later, the GOP is fractured from within and Washington is even more dysfunctional than it was in 2008.
PRESS RELEASE
October 20, 2008
Contact: Drew Nannis, AARP, 202-434-2560 anannis(at)aarp.org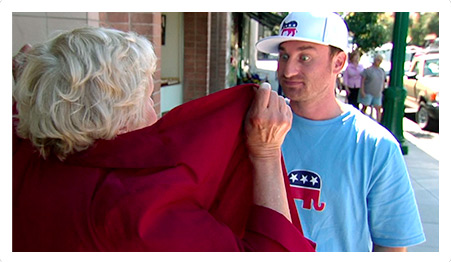 Washington, DC – On October 21, 2008, AARP premiers a new component of their Get Out the Vote campaign. In this cutting edge, online video it will be revealed whom the organization's pick is on November 4, election day.
Millions of personalized, online videos will be sent by ARRP to its E-activists who will be the first to view the video. The 60-second video features a "man on the street" who turns around to face his fellow Americans in order to find out who will break the government's gridlock found in Congress. The "man on the street" does not get the expected response. Upon watching the video, each viewer will be asked to "take action" by making a pledge to vote on or before Election Day.
AARP Executive Vice President Nancy LeaMond said: "We are coming down to the final few weeks of the campaign and we are seeing the number of undecided voters continuing to shrink. We believe it is critically important that AARP do everything it can to make sure people stay excited about voting through Election Day. What better way than to have some fun by emphasizing the importance of having leaders who are able to rise above the current partisan atmosphere and deliver on their promises? We have political coverage invading voters' lives 24/7. It is critical that voters don't become fatigued and overwhelmed by the bombardment of ads and events. We want the American people to stay motivated and vote on November 4th. Our fun video is just another way to help do that happens.
The video is just the latest effort made by ARRP. In the weeks leading up to this video launch, AARP has released a collection of online and offline (TV spots, radio, and flyers) efforts to educate its supporters about the election. ARRP has also distributed resources about early voting, a nationwide voter guide, and even opportunities to go to AARP's online community to discuss the presidential debates.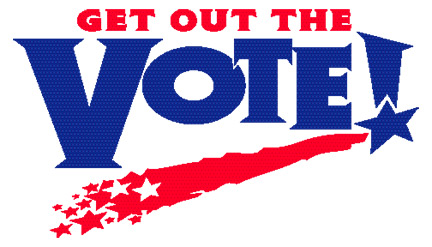 ********
ABOUT ARRP
ARRP was founded in 1958.
AARP, a nonprofit, nonpartisan membership organization helps people 50+ learn about how they can have independence, choice, and control in ways that are not only beneficial and affordable to them, but also to society as a whole. Please note that AARP does not endorse candidates for public office nor does the organization make contributions to either political campaigns or candidates seeking election.
AARP, The Magazine is the definitive voice for 50+ Americans. It is the world's largest-circulation magazine with over 33 million readers. The AARP Bulletin is the go-to news source for AARP's 40 million members and Americans 50+. There is also an AARP Segunda Juventud, the only bilingual U.S. publication dedicated exclusively to the 50+ Hispanic community. TheAARP Foundation is an affiliated charity providing empowerment, security, and protection to older persons in need with the support of thousands of volunteers, donors, and sponsors. ARRP have staffed offices in all 50 US states, the District of Columbia, Puerto Rico, as well as the U.S. Virgin Islands.
AARPVote08.org